Cha-Cha-Cha-Changes!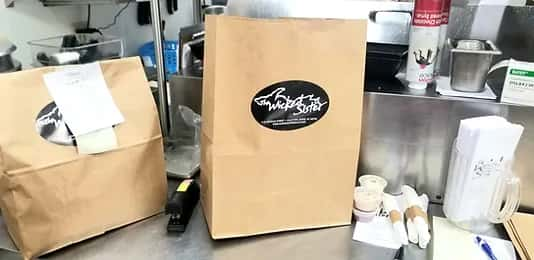 (National Office Printed our FANTASTIC stickers pre-COVID19)
March & April have presented some very unique challenges to everyone. Even in a state-wide lock down, The Wicked Sister can't escape outside changes! I started shopping for a new POS system (Point of Service System) in February and after much research and vetting, was able to decide on a specific system in March. And then, of course, the effects of COVID-19 laid down its hammer across the country: The company we were working with had to make a number of internal changes and shipping was delayed.
Under normal circumstances, we would have been able to use our new POS in a test mode for a week so that we could get familiar with it and fix any kinks that needed to be worked out. However, we all know that we're not living in "normal circumstances" at the moment. The reality is that I worked until 2am on Thursday to get every piece unpacked and set into place, and then woke up at 6:30am Friday to do the remote install. And if you feel bad for me because I took a short nap instead of a good night's sleep – just consider what The Wicked Sister's crew went through; going into a Friday night on a new system that they knew very little about.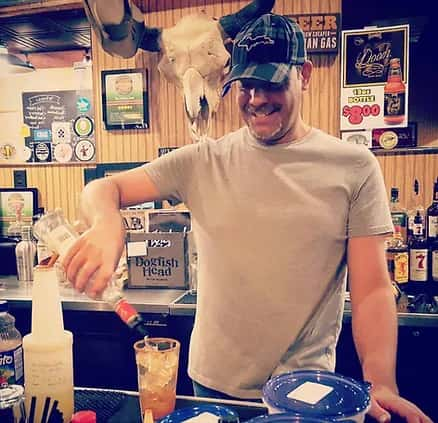 (Pint glasses or pint cans - Wicked Sister Bloody Mary & Caesars are made with love!)
We all knew it was going to be a "Hold on to your butt" type of day. Despite my best efforts to have everything set and ready to go, some people weren't able to even clock in or access the system when they came to work today. Through it all, the entire team was amazing! I've said for a long time that I would walk through fire for anyone on my staff, and their perseverance and positive attitudes throughout today is just one reason why!
To say that we were stupid busy would be an immense understatement. We didn't know that online ordering (a fun perk with our new system) would be so popular right off the bat! If you fell victim to our learning curve and waited an extremely long time – I sincerely apologize! I would have been out front apologizing in person, but I was in the kitchen trying to help turn out food as fast as we possibly could. Instead, you got to work with Scotty, Kayla & Megan – who by all rights, are far more fun than me anyway.
If you had truly horrible experience tonight, please reach out at contact@wickedsistersault.com to let me know. I would love to make things right with you! We appreciate the community's support always, but especially over the last six weeks. I never want to subject any guest to the inevitable learning curve during changes made to make The Wicked Sister better and stronger. However, tonight we just couldn't help it. I can tell you that everyone working tonight gave 200% and did the very best they could under the circumstances. I can also tell you that we will dial in all the new changes and learn from our mistakes to make The Wicked Sister better in the future!
In a silver lining, we now have online ordering! This means you don't have to deal with the frustration of a busy signal when trying to place your order by phone. It also means that you can schedule your order ahead of time – You can literally order in the morning and pick up your order at 5pm on your way home if that makes your day easier!
(We miss Kyler, but Kody is appropriately taking on the important role of Kitchen Goof!)
While we learn the new system – on top of adapting to being exclusively carry out & delivery sales – I appreciate your patience and understanding! The Wicked Sister might be experiencing some growing pains right now, but I know that within a few days we will be better and stronger than we were just a few weeks ago.
Let's talk Mother's Day for a minute – and Dads, I'm really looking at YOU! Mother's Day is May 10 which is just over a week away – you're welcome for the reminder. We will definitely have a fun option or two for a super special Sunday Brunch on May 10, but The Wicked Sister is also going to offer a special Mother's Day Edition Brunch Kit!
As a mom, I can tell you my favorite thing about Mother's Day (or really any lazy Sunday) is breakfast/brunch in my PJs…and it's all the better if I can have coffee (or mimosas) and breakfast in bed! For the first time ever, The Wicked Sister will be offering a Mother's Day Brunch kit so you can honor and spoil your favorite mom! We're going to pack up everything you need to make my favorite Buttermilk Pancakes, bacon & fruit salad – and we're including instructions so even if you're a complete knob in the kitchen, I promise, you'll be fine!
Dad's – read THIS carefully – you need to PRE ORDER our Mother's Day Brunch Kits. It does take a little pre-planning but we're making it as simple as possible. You can call 906.259.1086 or email contact@wickedsistersault.com so we can make sure your kit is ready for pick up or delivery on Friday May 8 or Saturday May 9. Each kit will serve about 2 adults and 2-3 growing kids. Feel free to add on Bloody Mary or Caesar mixes or sparkling wine & OJ for mimosas! Everything will come pre-portioned (with specific instructions) so you will only need a bowl, a whisk or spoon and 1-2 cooking pans. *Pro-tip – for the love that is all f@&$# holy, do the dishes and wipe the counters when you're done!
Another big part of May – Burger Month! With all the chaos of going live with our new system and scrambling to get in front of Online Ordering (available at https://www.toasttab.com/the-wicked-sister-716-ashmun-st) we weren't able to launch our Burger Month menu on May 1. Fear not! We are kicking off Burger month tomorrow with Jake's awesome Waffle Burger! We are working on finalizing the details of the rest of our Burger Month menu. As always, your favorite Front of the House crew has been working hard all week to get your Bloody Mary and Caesar mixes canned and ready for pick up/delivery for this weekend.
(Jake's Amazing Waffle Burger...available Saturday & Sunday!)
With the Governor extending the closure to Dine In sales through May 28, we are planning a 3rd Social Distance Tap Take Over with Founder's Brewing Company for later this month! YES! This totally means pints of 2020 KBS draft which you can compare to 2019 KBS bottles (because we're beer hoarders #sorrynotsorry). But in the meantime, we need to move some draft beer! While we have it, our pre-canned beer to go will be $3/pint – this includes a few cans of BBA Sustenance from Short's. Our current tap list offerings will be deeply discounted as we move through some inventory to make room for Founders. Be sure to follow The Wicked Sister on Facebook or Instagram to stay up to date on our current draft list and specials.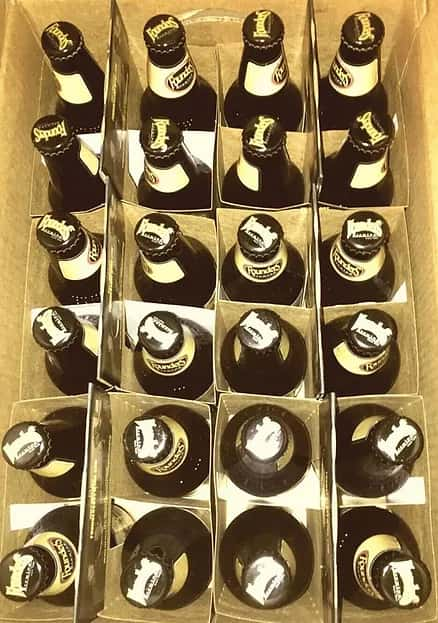 Finally, this weekend would have been LSSU graduation. It took me ten years and at least five majors to finally get through college with a degree. I can safely say that college is a lot of hard work to earn a degree. Seeing my college students on staff struggle with the abrupt transition into distance learning broke my heart. Seeing – or rather hearing of -- professors having to rework and move almost half a semester of course work online was so hard. With all these struggles to simply support "normal" life, I've watched so many people overcome new challenges and adapt to what simply is for right now.
My absolute best wishes to the graduating class of LSSU 2020, who are moving on in a new chapter of their lives! Kyler (former Wicked Sister crew) and Kyra (Wicked Sister neighbor) especially – they worked so hard for their efforts without the opportunity of being publicly recognized. Also, congratulations to the crop of LSSU freshmen, including Jake H. and Jake Z., who just finished their first year of college! When people told them that college was crazy, distance learning and pass/fail classes certainly weren't what we were referring to! And to all the LSSU professors who would come into The Wicked Sister for a moment of peace, a moment of planning or a moment to meet with students – we miss you, too! Go Lakers!