Excuse me...my Millennial is showing...
Excuse me...my Millennial is showing...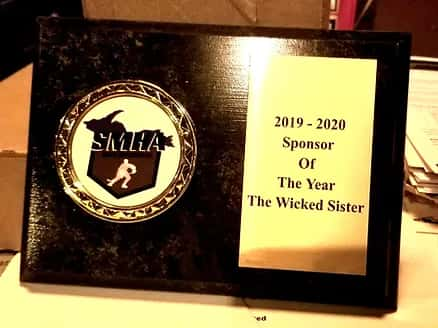 Last week a plaque from Soo Michigan Hockey Association was dropped off to The Wicked Sister. The plaque said "Sponsor of the Year." I politely said thanks and went back to work. Later that night, Scotty commented on my lack luster reaction to which I explained, "Oh it's a participation trophy for the team sponsors!" He and Mikey Goetz both said "Ummmm…no it's not! SMHA gives out one per year!" I said, "No way!" They said, "Yes way!" and that's how the conversation went until I sent a text to the Soo Michigan Hockey Association President asking for him to settle our debate. Jeremy replied, "It's NOT a participation trophy! It's voted on by all parents in the Association. Congratulations!
So now I have so much to say and I don't know where it makes sense to start! So to begin, Thank you and I'm sorry!!!
Thank you! I'm proud to be in a position that allows The Wicked Sister to be able to sponsor youth (and adults') sports. The Wicked Sister is able to do this because of our amazing customers who continue to support us! *Cue Lindsay Lohan breaking apart a prom crown…and if this means nothing to you, sorry! I'm having another millennial moment!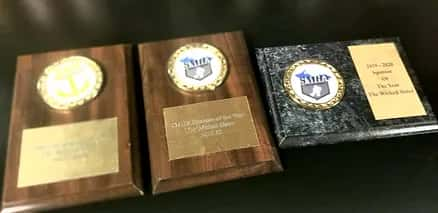 And now, I'm sorry! After my conversation with Scotty & Mike, I sheepishly went to the trophy corner of the bar that held Sponsor of the Year plaques from SMHA for the previous two years. In 2018, when we were first given this honor, I was attending a conference. And in 2019, when we were given this honor again, I was out of town attending a similar conference. This year, the SMHA banquet for The Wicked Sister team was canceled. If you are good at story problems, you read that right – The Wicked Sister has been voted Sponsor of the Year for the last THREE years and I had no idea what that actually meant!
During these uncertain times, after a reduction in hours of operation and learning some new systems in order to keep The Wicked Sister open, I cannot tell you what it means to know that several months ago we made a difference in the community! When I bought The Wicked Sister (almost!!) four years ago, I set out to keep the doors open and selfishly chase a dream I've had since I was 16 years old. Today, I can tell you that I'm so proud to be able to reinvest in a community that believes in me!
I tell you that story so that you know we, at The Wicked Sister, are doing everything we can to make sure we are able to emerge from the Stay Home, Stay Safe executive order as a viable business. The foreseeable future is filled with uncertainty. The typical group of industry professionals that I normally reach out to when I'm at a loss, are also at a loss. Individuals that have been my mentors for the last few years have become apart of a group for commiseration and support. That's a nice way to say we are all making $h!t up as we go and no one has solid answers for how small businesses cope with the current economic crisis.
I have to address some changes I've made to The Wicked Sister's NORMAL. Changes that I didn't take lightly, but changes that needed to happen so we could stay open and continue to serve the community.