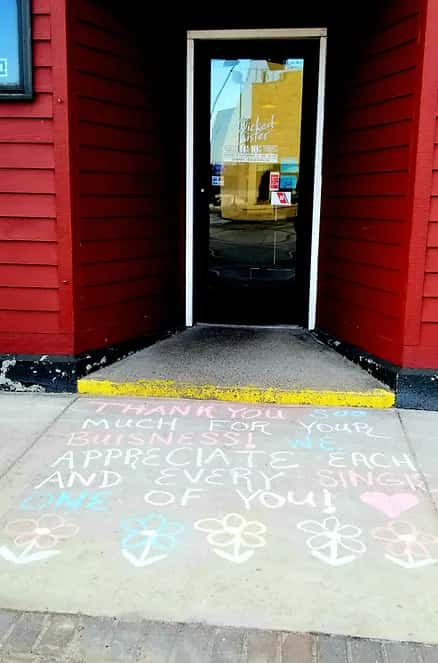 Some good news...some bad news...mostly good news!
Some good news...some bad news...mostly good news!
Tomorrow will be the start of Week #2 of partial shutdown – today the Michigan Restaurant & Lodging Association announced that Governor Whitmer signed a new executive order extending the partial closure to April 13, 2020. The Wicked Sister is holding its own, and we're so grateful for everyone coming out to support us!
We'll continue to stay open for as long as possible due to financial constraints or as new government mandates dictate. It's important for us to say that we are 100% in support of this partial shutdown, as well as any other mandates necessary to Flatten the Curve. The faster COVID-19 is shut down, the faster we will be able to return to life as normal.
Each day we have guests tell us, "Thank you for staying open!" Let me just tell you all, THANK YOU for continuing to let The Wicked Sister serve you! We are happy to provide a little bit of normal in your lives – or, at least as normal as we get at The Wicked Sister.
I'm personally loving the way small businesses are getting creative and collaborating during this disruption to normal business. Our friends at Eagle Radio 95.1 – Tim & Lindsay Ellis – have BIG plans for Friday, March 27, and were kind enough to include The Wicked Sister in their End-of-the-Week shenanigans! I'm going to let them spill the beans tomorrow morning on air – so be sure to tune into 95.1 and find out what Timmy E has in store!
We are super excited to be hosting our first ever Social Distance Tap Take Over with our buddies at Ore Dock in Marquette, MI. Ore Dock will have seven taps at The Wicked Sister – the 8th being reserved for Tripelroot Brewing Co. because of their well-deserved win during our Battle of the Breweries back in October.
Friday afternoon Blayne, myself and Timmy E will be taking over Eagle on Tap in the afternoon for an interview with Ore Dock. At 7pm, The Wicked Sister will be hosting a Facebook Watch Party (link to follow) so we can enjoy some beers and chat while keeping to a socially accepted distance!
Be sure to pre-order your beers if possible as we are not allowed to have more than five guests inside at a time. Or better yet, let us deliver beer and dinner to you!
The use of technology to ease the feeling of isolation during this time has helped substantially! I'm not saying we're getting sick of each other down here at The Wicked Sister – can you imagine having a better group of people to work with? – but, we are missing our regulars who come in and keep us entertained as much as possible!
I'm proposing a daily (or twice daily) video from the crew at The Wicked Sister on topics of their choice. Today Kayla had me dying as she taught me about her favorite non-glass container to drink from. Turns out, her favorite is a State Fair lemonade cup and allegedly holds 30 oz. of Coors Light (Math Fact – that is 2 ½ bottles of beer). She's from Ohio so we don't judge her, we just love her for who she is.
Our temporary hours are as follows:
Monday-Thursday 11:00 am – 8:30 pm
Friday & Saturday 11:00 am – 9:00 pm
Sunday Funday Noon – 8:30 pm
**Delivery service will end 30 minutes prior to close**
When the mandate is lifted, we will be back to our normal hours – and maybe keep delivery around if possible.
We are thankful for all the employees at War Memorial Hospital, First Responders, Law Enforcement, Retail Workers and all the amazing folks who are working hard to keep us safe and able to buy all the things we need for day-to-day life! We're in this together!