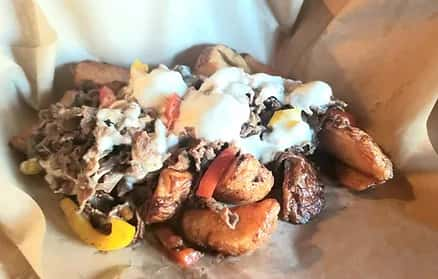 Sunday Funday Plans
Sunday Funday Plans
First, let me start by saying thank you for your continued patience when trying to call in orders to The Wicked Sister! I understand your frustrations! We are currently working with just one phone line – on average, phone orders take 2-3 minutes and collecting information for delivery orders can take another minute or longer.
We are actively looking at some temporary options to help offset our call volume and should have those in place by next week. We are also fast tracking our online order platform, and while we're still a few weeks out on that, it is coming as fast as we can get it! And the good news – the online ordering will be around permanently even after we return to business as usual!
I'm going to share a giggle that has kept us entertained all week. We have heard from numerous customers that they are hearing a "funny" sound when they try to call. That sound, my friends, is a busy signal. In your head, I'm sure you have an image of what this particular individual might look like. Before we inadvertently spark a Boomer v. Millennial war, just know that this strange noise confusion is coming from all generations! It has brought a smile to my face all week – and we're not trying to make anyone feel badly, just sharing a little bit of fun during our social distancing.
Brunch plans are set and we're ready for tomorrow! Chicken & Waffles and Philly Cheesesteak Hash, both $11.00 each, are available for pick up or delivery beginning at Noon until we sell out! We also have 375 ml cans of sparkling wine so you can build your own mimosas at home! If you need OJ, let us know and we can help you out there too – but don't judge us for the Styrofoam cup it's likely to come in! We are considering canning our Bloody Mary and Bloody Caesar mixes for next week so you could make your own at home – please feel free to let us know you're thoughts!
In the event that you are having problems getting through on the phone (9062591086) tomorrow, you can try emailing your order to contact@wickedsistersault.com. But please know, your order isn't confirmed until you get an email or phone call back from us! We'll do our best to keep up on emails and will use tomorrow as an experiment for email orders going forward during the partial shutdown.
We finally have temporary hours! Things may change depending on business or other factors, but for the time being our new hours will be:
Monday-Thursday 11:00 am – 8:30 pm
Friday & Saturday 11:00 am – 9:00 pm
Sunday Noon-8:30 pm
**Please note that delivery will be available up until 30 minutes before closing**
The stress of the uncertainty during this time has my anxiety reaching new levels so I'm thankful for any sense of normalcy during my day. Three of us at home wear the same size socks, and none of us three are great about making sure dirty socks end up in a hamper. Most days I scramble to find socks to wear – the hunt for socks is actually my least favorite part of every morning! I can tell you things in the Howell household are still sort of normal because today, you guessed it, I couldn't find socks!
The pair I did scrounge from the very back of the sock drawer happen to be one of my favorites: A gift from my mom a couple Christmases ago. They're not my favorite due to the comfort or some other utilitarian quality. They're my favorite because printed on the ankle of each sock is "Ring Leader of the Shit Show." It was funny in 2018 when I got them. It's even funnier and just as appropriate today.
I don't have a lot of good answers for what our next week looks like. The plan is to stay open for as long as financially possible or until the government mandates for us to close. To everyone who is calling for orders from The Wicked Sister and going out to support other small businesses during this time – THANK YOU! It means the world to know that The Wicked Sister can continue to stay open for the time being. Sunday Funday won't be the same this week, but we're going to make the best of it. Scotty will be here all day, as normal, and in addition to Kayla and Ashley. And as always, The Wicked Sister is looking forward to serving you!