Well, Well, Well....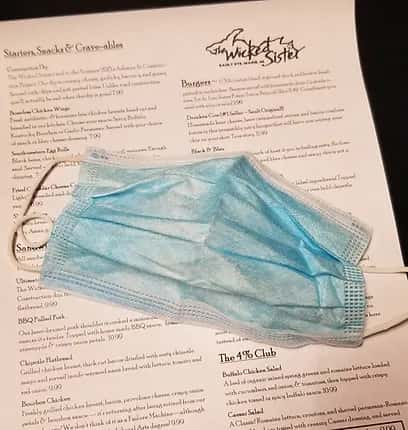 I'm happy to say reopening to dine in sales has been treating The Wicked Sister very well. So well, in fact, that I've spent a great deal of time assisting the amazing Wicked Sister crew in keeping up with our dine in, carry out and delivery business. And when I do have a free moment to sit in front of my laptop, those moments have been spent making plans and reviewing reports to ensure sure we are heading in the right direction.
I do need to address the giant elephant in the room – Masks! Governor Whitmer's latest Executive Order went into effect on Monday July 13th, requiring all businesses open to the public to refuse service to people without face coverings. So yes, you must wear a mask when entering The Wicked Sister or we must refuse service to you. If we fail to enforce the latest Executive Order, The Wicked Sister risks the suspension of our liquor license, business license or both.
And here's the thing – The Wicked Sister, like every other business was given zero guidance on how to navigate this latest mandate. What you read in the Executive Order is all the information we were given. We're trying to figure things out while keeping staff and guests safe and happy. I acknowledge this is an incredibly sensitive subject – like hemorrhoid sensitive – for pretty much everyone in the state.
So, here's the official Wicked Sister stance, at least while the latest Executive Order is in effect –
1. You have to wear a mask when you come in. We can't risk another closure to dine in sales.
2. You have to wear a mask when you come in. The Wicked Sister cannot risk the suspension of our licenses. We love you; I promise. But right now, we have to love us more.
3. There's a rather large sign on the front door notifying guests they must wear a mask upon entering. For the love of all that is holy please don't pretend like you do not see the sign.
4. The last time I checked, your mom doesn't work here. So, please don't make us remind you to put on a mask (after you read the giant sign on the door) like your mom used to remind you to brush your teeth.
I've had at least 1,000 awkward conversations in my lifetime, but the worst so far has been asking grown adults who appear to be 100% literate to put on a mask (there's also an infographic on the sign, in the event I'm wrong on the literacy point).
We are hot. We are busy. I promise that we would rather be pouring beer or asking about your week than reminding you that the sign on the door really does mean you need to put on a mask.
No – you don't get to argue with us. In particular, you don't get to argue or berate the hard-working crew who are simply following rules that are outside of our control.
Nope – We actually don't care about your opinion on masks…or the governor…or schools reopening…or anything else related to COVID-19. Sorry, not sorry. We see about 150 people a day who all have very strong, very personal feelings about current events.
Friends are generally the individuals you would discuss your feeling with. If you just need to share your feelings with us, we are happy to charge you appropriately. In the event a friend is unavailable to you, Life Coaches are more expensive than friends, but cheaper than therapists. The best I can tell, a Life Coach's starting rate is $50/hour. Choose how you would like to proceed at your own risk.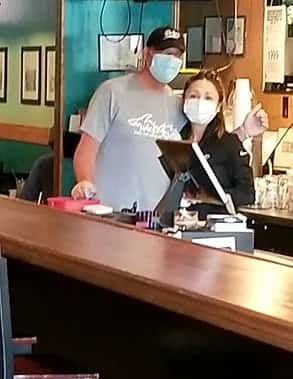 We are a small business just trying to navigate a global pandemic. We are just trying to stay in business. So, in addition to EVERYTHING else that has changed, when the powers that be lay down a regulation, we are obliged to follow.
For the 95% of our guests who come in with masks on and seem to be taking this in stride, THANK YOU! Now, more than ever, you have no idea how much we appreciate your willingness to abide by the current rules and make our lives so much easier.
Next week's "elephant" topic will address Service Animals vs. Emotional Support Animals vs. Pets and their relation to the Americans with Disability Act – because this has been almost worse than mask enforcement. Incidentally, this is also 100% out of our control and we are merely following guidelines set forth by governing agencies.
With that out of the way, let's focus on some really great things that have been happening! Things that are within our control!
First – on July 1, 2020, Governor Whitmer & the MLCC approved the sale of cocktails to go! This is something that I had been keeping my eye on over the last couple years, but with COVID and the limited dine in capacity of bars & restaurants, was fast tracked into approval. Hooray!
The Wicked Sister can now sell your favorite cocktails, pre-mixed and out the door, in sealed 12 oz. cans! Bloody Mary's? Yep! Lemon Flan Martinis? Yes!! Moscow Mules? You bet! All the cocktails!
Call 906.259.1086 to place your order or stop in (with a F'ing mask!) to order in person! Just like any alcohol purchase, you must be 21+ to order. We are even able to deliver all the cocktails – but we'll need to see your ID to make sure you are of legal drinking age, so Contactless Delivery is not an option here. Pricing on our cocktails is the same whether you choose to dine with us or take cocktails with you!
Our Cocktails To Go are served in sanitized, sealed 12 oz. cans. You'll want to make sure they are kept cold and drink them within a couple weeks. I'm so excited that we can provide cocktails for your camping trips, nights around the bonfire or trips to the beach!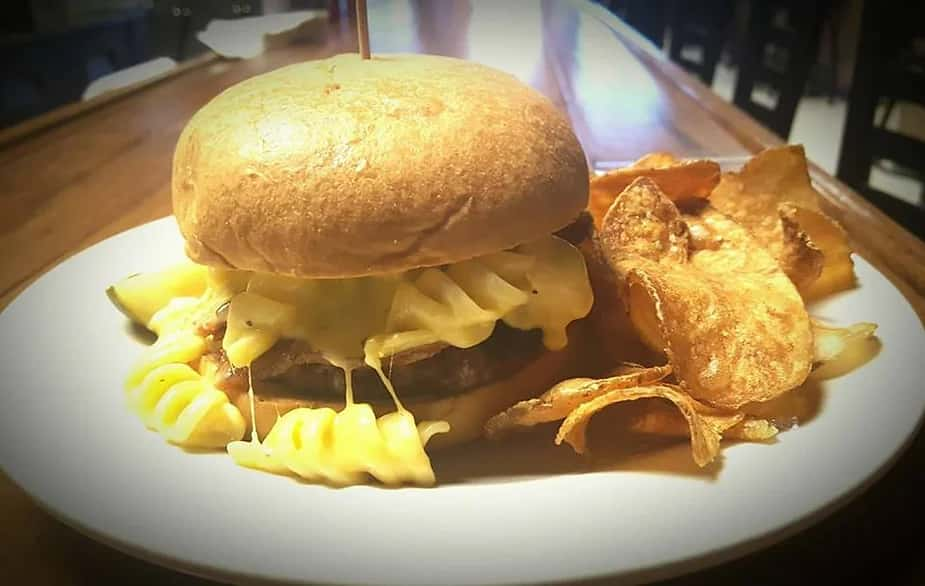 In more exciting news – A few weeks ago, The Sault News announced their Best of the Best winners. The Wicked Sister was the recipient of many awards, including Best Overall Restaurant and Best Dining Experience. We also received 3rd Best Burger, behind West Pier & Clyde's, which was an enormous honor, too!
It is one thing to come in every day and be proud of the work we did. It's entirely something else to be publicly recognized for all that hard work! The Wicked Sister's crew this summer (and really, since March) has been small but mighty. I can't imagine spending most of my days with a better group of people. Folks who are hilarious, kind, hardworking and tolerant of all the changes and new challenges we are facing.
I've said it before, but it's worth saying again – What guests love about The Wicked Sister has very little to do with me. I'm the curator of the staff, but it's the terrific people who make up the staff that are responsible for the awesomeness of The Wicked Sister. They come in each day willing to give 110%. The Wicked Sister doesn't exist because I say it does, and I certainly can't make it run on my will alone. These are my people. The Wicked Sister exists because of the dedicated, hardworking crew (past, present & future) that believe in me and are willing to give the best of themselves to help carry out my dream.
So right now, I choose to forget about the stress of COVID and masks and whether my kids will physically go back to school in September – and for now – I will just be thankful for The Wicked Sister crew – small, but mighty – who all make me laugh, make me grateful and make me work harder to keep up with their greatness. And today I choose to be grateful to our loyal guests who not only kept us open during a global pandemic but continue to support us even when we're not perfect. All we ask of you for the time being is that you wear a F'ing mask or simply order online!