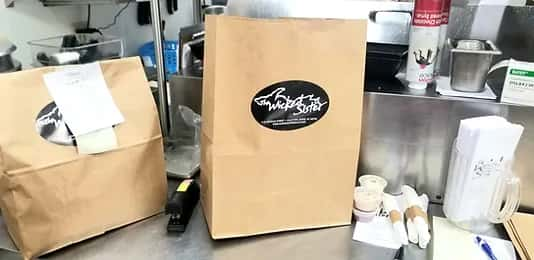 Live from The Wicked Sister...it's our Weekend Update!
Live from The Wicked Sister...it's our Weekend Update!
Have you ever wanted to order wine, but don't want an entire bottle? We just brought in 375ml cans of wine! For those of you unsure of what 375 milliliters looks like and/or just haven't gotten that far in your kids' homework, yet – it's a half bottle of wine – or just shy of 13 oz. – or about two 6 oz. glasses. While we could debate the point that any self-respecting wine drinking could for sure drink two glasses in the comfort of her (or his) home, I frankly don't need the clap back on social media that self-respecting wine drinkers don't drink wine from aluminum cans. (Kidding – sort of! But, we're side-eyeing you Sault Rants & Raves!)
ANYWAY…we are offering a Red Blend, Chardonnay and Sparkling White for $9 each. It's House Wine Co. and it's pretty good stuff if you are looking for some wine to go with your carry out.
Are you observing Lent and need a meatless option for Friday? We've got you covered here, too! A few meatless options from our regular menu include Southwest Black Bean Burgers, cheese curds and of course, salads. Our daily feature for tomorrow is also Lent-friendly – Creamy Pesto Pasta topped with Sautéed Shrimp and served with a side of garlic bread.
Longing for Brunch on Sunday? We've thought of that, also! We'll have Chicken & Waffles and a new brunch item – Philly Cheesesteak Hash (garlic roasted potatoes topped with chopped sirloin, sautéed peppers & onions and provolone cheese served with a side of garlic aioli) available for carry out and delivery! Order a can of sparkling wine or a bottle of prosecco, and you can make your own mimosas at home. We are considering the option of canning our Bloody Mary and Bloody Caesar MIX for next weekend and would love to hear your thoughts on that!
Remember that next Friday, March 27, we will be hosting our first ever Social Distance Tap Take Over with our friends at Ore Dock Brewing Co. Pints To Go will be available all day – we are encouraging you to call ahead for your brews due to the Five-Customers-At-A-Time restriction – however, we'll gladly fill pints to order, too! Anyone interested will be able to join Blayne & friends on a "live" chat from Marquette.
Best news of all? Everything we have going on this weekend can be delivered right to your house if you live inside city limits, the Radar Road area and Osborn Subdivision! If you're outside our delivery area or just happen to be out and about this weekend, you can also pick up your order. We are offering curbside service, as well as inside pick up. Call 906.259.1086 to place your orders.
Don't fret about having to stay home this weekend! Catch up on Netflix, let The Wicked Sister feed you and try to appreciate the temporary slow down. And if you're working this weekend because you're in healthcare, retail, a first responder or any other career vital during this time, please know that all of us at The Wicked Sister appreciate you! Summer will be here before we know it and I know we're all ready for life to return to normal as soon as possible. Stay healthy friends – We're missing you!