We're SO Negative!
Do you ever have those days and weeks that make you feel like time in flying by?? I feel like I was just saying – Holy cow, I can't believe it's already August. Now I find myself marveling that it's almost the middle of September!
I'm happy to report that all my staff who were tested for COVID were negative. I appreciate all the community support and positive feedback during our brief shut down. Even though it wasn't required and may have been a bit over-cautious, it just felt like the right thing to do.
We prepare your food outside of your sight. When you dine at The Wicked Sister, you are trusting us to uphold the best practices put forth by the Chippewa County Health Department and Michigan Food Code. While dealing with the complications of COVID is a bit different than standard operations, it really didn't feel much different.
The Wicked Sister takes your, our staff and other guests' health and safety very seriously – whether we are in a global pandemic or not. Even when it's inconvenient. Even when it means closing on a Friday. I can tell you that the community response reassured me that we made the right decision.
Under normal circumstances, we would have changed back to our fall hours last week. For the time being, our hours will remain the same! Tuesday-Saturday 11:00am-9:00pm and Sunday 12:00pm-9:00pm. Depending on how that goes, we may have to scale back and close earlier, but I'm hoping that's not the case.
And just to clarify – Our kitchen stays open until 9pm. If you want to come in and
order at 8:45pm, that's 100% OK! The bar will do last call shortly after 9pm so if you're looking for a place to spend a couple hours – we're not that place. If you're looking for a meal and one or two drinks, Yes! We're here for you! We do shut down delivery service at 8:30pm so if you don't want to leave your house, make sure you plan a little bit ahead of time!
Two really exciting things happened this week! (Three if you count my kiddos going back to school and we're grateful to settle into our school year routine!)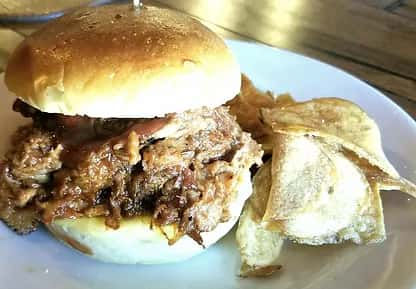 First, The Wicked Sister was awarded Trip Advisor's Travelers' Choice Award for 2020. This is a rebranded version of Trip Advisor's Certificate of Excellence which The Wicked Sister has been awarded since 2015. The recognition, which is based on positive reviews, is greatly appreciated!
Second, and most important, The Wicked Sister will still host our annual Battle of the Breweries for Hospice this fall! I had been kicking around some ideas trying to figure out how we could host my favorite event while under capacity restrictions. We will be changing things up a little bit due to our limited capacity; however, we will still have two breweries and a four-course meal paired with their choice of beer!
I'm beyond excited to announce that Big Lake Brewing will be our 2020 challenger
going against four-time reigning
champion Ore Dock Brewing Company. Tim and Lindsay Ellis, owners of our local Eagle Radio 95.1, have once again graciously volunteered their time to MC the night and lead the live auction. Many thanks to everyone involved who are blindly going along with the shenanigans I pitched to them Thursday night!
More details are coming, including the date, menu and the changes that will make this a very special year for our 6th Annual Battle of the Breweries for Hospice of the EUP! As always, 100% of the proceeds from the fundraiser go directly to Hospice of the EUP. If you would like to donate an item to our live auction, you can email me at contact@wickedsistersault.com – Your support is very much appreciated!